No hassle easy dumpster rental
Affordable prices with no hidden fees
Friendly team members
Fast delivery and pickup
Satisfied customers
Call (657) 425-0756 Now
What can you throw in a dumpster? A question frequently asked when calling up a dumpster rental service Well, the answer is not everything. There are rules that must be followed when getting rid of items in a household waste basket. Similarly, you must adhere to certain guidelines when renting a dumpster. Because of local and state regulations and environmental concerns, waste disposal is governed by regulations.
Make sure to inform the dumpster rental company of the materials you intend to dispose of in the dumpster. They will advise you on what you can and cannot dispose of.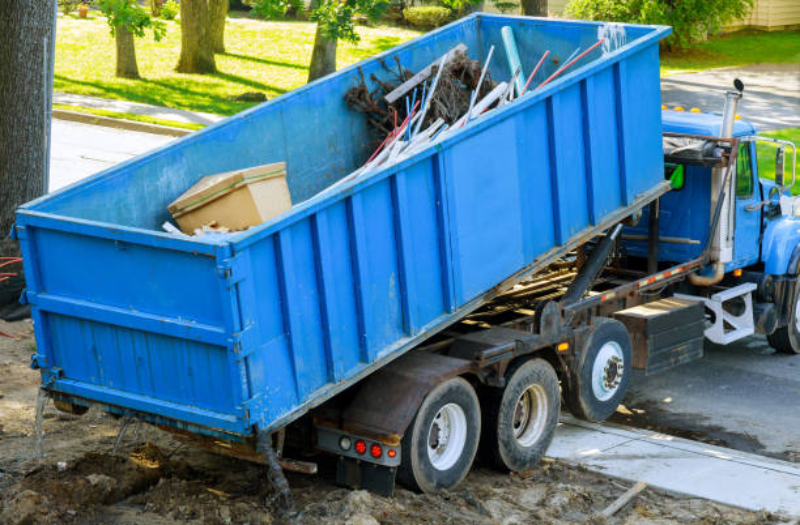 What may I throw away in a dumpster?
You may throw away a lot of nonhazardous waste, debris, and junk. For example, you can throw away wood, furniture, trash, roofing shingles, C&D debris (construction waste and demolition debris), siding, some appliances, yard waste, and flooring in the dumpster.
Most types of furniture can go in dumpsters, including sofas, mattresses, box springs, sofa beds, tables, chairs, and desks.
The majority of household appliances, including refrigerators, freezers, air conditioning units, washing machines, and dryers, are permitted in dumpsters. It is important to remember, though, that any dangerous fluids, like freon, must be taken out of these appliances before they are thrown away.
For example, to get the freon out of the appliance, you need to hire a professional appliance repair technician. Only then can you put the appliance in the dumpster.
Dumpsters accept all home electronics, including televisions, computers, printers, and other e-waste.
Construction and Demolition Debris
Various construction and renovation projects generate a considerable amount of waste that can be collected and placed in a dumpster. Fences, tyres, roof shingles, carpet, scrap metal, ceiling tiles, gravel, plaster, patio stones, asphalt, ceramic tiles, bricks, wood, and concrete are examples of such items.
Most dumpsters allow a variety of yard waste, such as trees, branches, grass, and other green waste.
Get What You Want at an Affordable Price
Ensure you are aware of the available dumpster sizes and their prices to obtain the best deal. For smaller projects or waste that is lightweight, a 10- or 20-yard dumpster may be enough. However, a 30- or 40-yard dumpster will be required for larger projects or debris that is heavier.
What can't I dump in a dumpster?
When renting a dumpster to dispose of trash, there are typically not many restrictions on what can be placed inside. Typically, you can place nonhazardous waste in your dumpster and have it removed. You cannot place hazardous waste materials in your rented dumpster. If these items are not disposed of properly, they pose environmental risks.
At Dumpster HQ Santa Ana, we can't take dangerous chemicals, poisons, or liquids that can catch fire or burn.
As noted previously, hazardous waste does not belong in dumpsters. Asbestos, pesticides, oils, oil tanks and drums, gas tanks, chemicals, explosives, and other hazardous materials cannot be placed in the dumpster. In the majority of communities, hazardous waste materials can be dropped off at separate collection events and disposed of in an appropriate way.
Due to the toxicity of their refrigerant, refrigerators cannot typically be placed in a dumpster. Generally, you can dispose of refrigerators through the bulk waste disposal programme of your local sanitation department. In some areas, if your refrigerator has been properly drained by an HVAC professional, you may be able to dispose of it in a dumpster.
However, if you are only disposing of one refrigerator, it may be simpler to contact an appliance store. Some companies offer free appliance disposal with the purchase of a new appliance.
Because the empty space within hot water tanks can collect harmful gases in landfills, they are generally prohibited from dumpster rentals. If you need to get rid of a hot water heater or tank, call your local waste management office or recycling centre.
Tires cannot be placed in dumpsters because they can cause damage to landfill structures and equipment. Whole tyres can "float" to the top of a landfill as methane gas accumulates within the inner wall of the tyre. The majority of auto parts stores and municipal waste departments accept used tyres for recycling into asphalt and other industrial uses.
Paints and lacquers are prohibited because they may contain lead or mercury, particularly if they were produced before the 1990s. Included among the prohibited paints are paint thinners, lacquers, and wood stains.
However, in the majority of municipalities, dry latex paint can be disposed of in a plastic bag. Typically, empty paint cans are also accepted.
As they can bind other materials to the container's interior, adhesives such as glue and epoxy should not be placed in a dumpster. Instead, discard these items with your regular garbage or recycling.
Batteries for automobiles, as well as lithium batteries, cannot be disposed of in a dumpster because they may release harmful chemicals. You can recycle old car batteries at a local auto shop or other recycler. Laptop lithium batteries can be recycled at the majority of large electronics retailers. Alkaline batteries with a general purpose, such as AA, AAA, and D cells, are permitted in a dumpster.
Infectious waste includes materials that have been exposed to bodily fluids or have been used in the medical field. Used medical supplies, such as needles and bandages, must be disposed of by haulers who are licenced to do so.
Hazardous materials and liquids cannot go in a dumpster. Asbestos, pesticides, contaminated soils or absorbents, motor oil, other automotive fluids, and medical waste are examples of hazardous waste. Follow the proper procedures in your area and locate a hazardous waste collection centre nearby to dispose of the waste responsibly.
Contaminated Soils and Absorbents
Soils and absorbents contaminated with hazardous materials cannot be disposed of by conventional waste haulers. They must be treated or contained in accordance with federal Superfund regulations.
Chemical cleaners or solvents cannot be discarded in a dumpster. However, containers that are empty and do not contain residual chemicals are typically accepted.
Ink from pens and printers, as well as resins, can cause equipment damage and stain the interior of trash cans. These should be disposed of at recycling centres or stores with drop-off bins.
Oils, Fuels, and Propane Tanks
Propane tanks, fuels, oils, and other flammable materials should never be disposed of in a dumpster. The improper disposal of these highly combustible substances is illegal in most areas. For disposal information, you should contact a propane company, your local fire department, or a hazardous waste collection centre.
Because many railroad ties are treated with toxic wood preservatives, we cannot accept them in our dumpsters. However, the vast majority of landfills accept intact railroad ties. They can also be recycled and reused by organisations like Habitat for Humanity and local businesses seeking landscaping materials and parking lot bumpers.
Asbestos is a fire retardant found in a variety of older homes and industrial products. Most U.S. states consider it to be a carcinogen, which has led to landfill bans. If you suspect your home contains asbestos, you should hire a licenced contractor to remove and dispose of it.
The contents of industrial drums may be hazardous byproducts of industrial processes. These should be disposed of by hazardous waste disposal staff.
No hassle easy dumpster rental
Affordable prices with no hidden fees
Friendly team members
Fast delivery and pickup
Satisfied customers
Call (657) 425-0756 Now